Go with what you know. It's sage advice for any entrepreneur ready to take a risk. Bruce Freshwater understands the importance of tapping into your knowledge base. He's built more than one successful business on the premise.
As the 2022 Pittsburgh Vetrepreneur® of the Year, Freshwater knows a little something about building a strong business foundation. In 2007, he launched Sierra Experts, a leading Pittsburgh-based network solutions and managed services provider. Or, as some have affectionately dubbed it, the IT company for IT companies.

"Typically, the customers we work with have either their own IT departments, or they use us for senior-level activities," said Freshwater. For example, if an entire exchange goes down, a company may not have the expertise or facilities in-house to resolve the issue. Sierra Experts comes to the rescue. "So, we're basically the IT company for IT companies."
Freshwater's success as a veteran business owner and his propensity for giving back earned him the 2022 Pittsburgh Vetrepreneur® of the Year award, presented annually by veteran-owned VIQTORY and sponsored by Fort Pitt Capital Group.
"Bruce epitomizes the can-do spirit of veterans, forged in military service, that has produced 2.5 million veteran-owned businesses. Congratulations on this high honor, Bruce!" said Chris Hale, VIQTORY co-founder, CEO and a Navy veteran.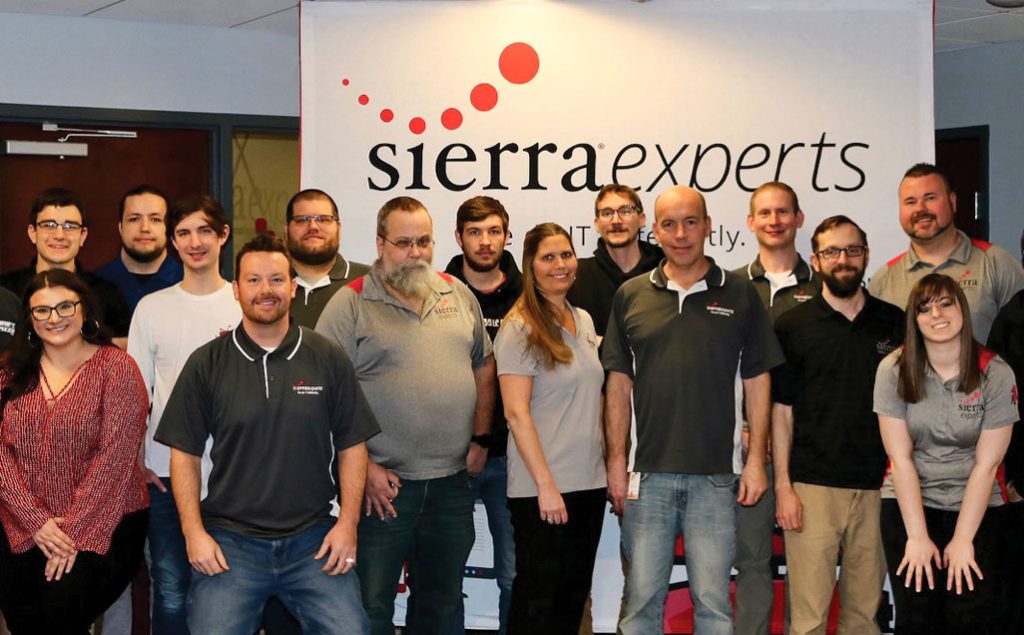 In his role with Sierra Experts, Freshwater manages client network infrastructure for organizations ranging from small offices to large enterprises. He oversees all daily operations in-house and at the Downtown Pittsburgh Data Center. Under his leadership, the company has enjoyed substantial annual growth.
"As far as the growth, it's based on new labels and new logos," he said. "A lot of things are determined by who's down the street from you. Our goal is to keep on expanding." Sierra expanded its data center hosting services through its sister organization, Sierra Data Centers. Freshwater serves as the chief technology officer for the offshoot. He plans to continue the trend of enlarging his business scope by adding new branch offices in other states for Sierra Experts. His first target is Baltimore for its proximity to his Pittsburgh offices, and also Washington, D.C.
Growth through trial and error
Making mistakes is a valuable part of the learning process. Freshwater says he made plenty of them during his first endeavor, called InnovationTech. "For instance, two years into it, I came back from a trade show in Alaska and didn't have an apartment 
anymore. It was one of those old life lessons as far as what you need to take care of, where your responsibilities need to be set."
It wasn't his first, nor would it be his last, gaffe after starting his original company. He used the missteps to grow as a business owner. Not everything from that first adventure turned out badly. Freshwater persevered, expanding InnovationTech's coverage across 20 states, while continually increasing the organization's revenue and profitability.
He divested of InnovationsTech in 2006. Freshwater said he took the many lessons from that initial experience and used them to form and grow Sierra Experts.
Business acumen military-style
Freshwater attributes his time in the Air Force to his ongoing interest in the information technology industry. "I was the youngest engineer at Nellis Air Force Base whenever we started getting automated data processing equipment in," he said. The chief selected him to install the new technology in addition to his regular duties. The trend continued throughout his military career as he built his IT skills.
When he transitioned back into civilian life, he realized he liked IT work enough to make it his new career. He taught IT classes for a while when he first returned to Pittsburgh but decided teaching was not his forte. "I like doing (IT) as far as the fixing, the problem-solving," he said. "I enjoyed the hands-on more than the teaching aspects."
The Air Force taught him more than the hands-on tech skills he needed to pursue his passion. Freshwater said he also can thank the military for giving him great salesmanship qualities. "During my last six months in, my chief assigned me to an additional duty of building infiltration. My responsibility was basically to coerce or convince people that I was supposed to be there," he said, laughing. What he learned falls in line with the sales side of his business, which any entrepreneur needs to succeed.
Investing in the Community
Investing in the growth of your business isn't the only tip Freshwater offered fellow vetrepreneurs. He suggested finding meaningful ways to impact the communities where your business operates. Give your employees paid time off to volunteer with their favorite nonprofits or make financial contributions to local organizations to support their services. Investing in the community is never bad business practice.
"We sponsor West Allegheny Library events and local youth sports teams," Freshwater said. "I was also actively involved in Boy Scouts of America as the Laurel Highlands Front District Membership Chair from 2017–2021."
Parting Shots for Vetrepreneurs
If there is one bit of parting advice Freshwater said he'd give to fellow vetrepreneurs, it's to remember the old motto of service before self. "It goes the exact same way in business. The whole thing to make sure you pay attention to is growing your business and not getting distracted."