NASCAR driver Jesse Iwuji has yet to take the checkered flag in a Xfinity Series race, but his entrepreneurial exploits on-and-off the track have this Navy Reserve officer positioned in the winner's circle.
A late entrant to motorcar racing, Iwuji, 34, has made an improbable journey from the Navy to NASCAR. He began racing in 2015 while on active duty and stationed in Southern California. He steadily has climbed the ranks of stock-car racing, from running late-model stock cars on half-mile dirt tracks to competing on the NASCAR K&N Pro Series, Camping World Truck Series and ARCA Racing Series before reaching the NASCAR Xfinity Series in 2020.
Iwuji added the title of NASCAR team owner when he formed Jesse Iwuji Motorsports in August 2021, partnering with NFL Hall of Famer Emmitt Smith and sports agent Matt Casto to form a Xfinity Series team that includes drivers Jesse Little and Kyle Weatherman.
He credits the US Naval Academy, where he played defensive back for the Midshipmen and ran track, for his winning mindset.
"I learned how to be strong enough long enough," Iwuji said. "It's not always that you are going to be the most skilled. It's not always that you are going to be the smartest. It's about who is going to be the most resourceful and then who is going to stay strong enough long enough. If you can do that, you can figure out anything in life."
In business and on the racetrack, Iwuji is proving to have plenty of staying power.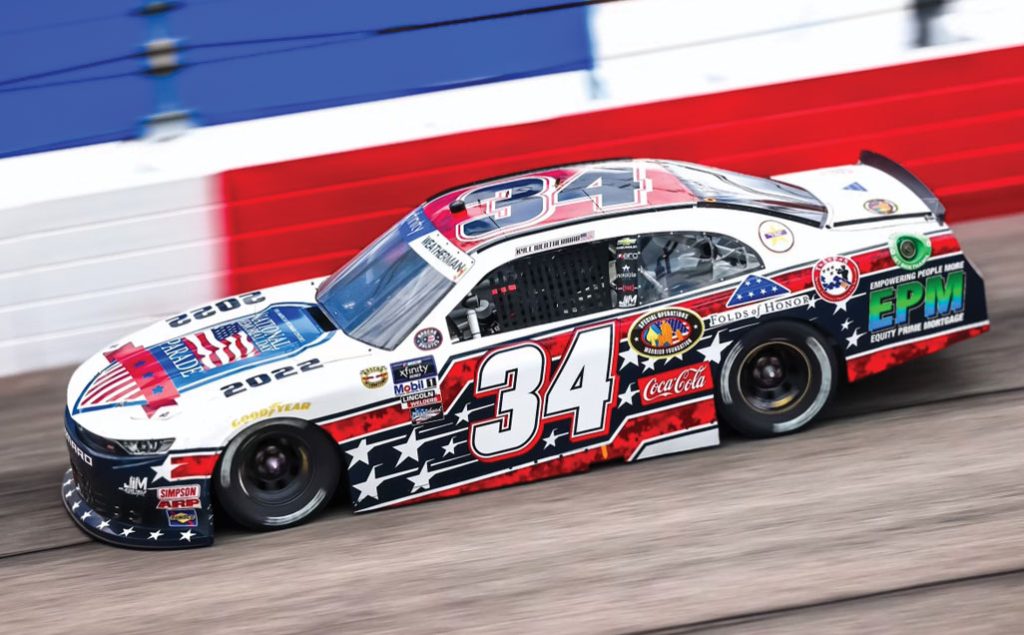 While his race team is based in Charlotte, N.C., Iwuji manages multiple enterprises from his Los Angeles home. In partnership with his brothers, Iwuji's businesses include the Red List Group, an auto racing events company that also sponsors an eSports sim racing team; JBJE Transportation, a trucking and logistics company; and a real estate investment company with a growing portfolio of commercial and residential properties in Texas, Oregon, Indiana, Iowa and Maryland.
It's his prowess as a veteran business owner rather than his performance on the track that earned Iwuji the 2022 title as Vetrepreneur® of the Year (VOY), a prestigious honor bestowed by veteran-owned VIQTORY—publisher of G.I. Jobs.
"I had the honor of presenting the Vetrepreneur® of the Year hardware to Jesse at the Texas Motor Speedway prior to his race on Armed Forces Day," said Chris Hale, G.I. Jobs CEO and a Navy veteran. "He arrived in Fort Worth at 1 a.m. on race day because he had three days of Navy Reserve duty in California. That day Jesse and his team honored a couple dozen veteran-owned businesses by designing their logos onto the car for the Texas race. Jesse is such a driven and selfless leader and example who embodies everything we look for in selecting a Vetrepreneur® of the Year."
Hale presented the 2022 VOY trophy to Iwuji trackside before the SRS Distribution 250 NASCAR Xfinity Series race at Texas Motor Speedway in Fort Worth, Texas, on May 21. The track is something of a home field for Iwuji, a native of Dallas.
Iwuji's first entrepreneurial venture was the drag racing company, which he formed
while on active duty to fuel his NASCAR dreams. He earned more than extra cash.
"I learned how to market," he said. "I learned what made people want to spend money. What got people hyped. I learned social media and how to market through it. I straight up learned how to sell and deal with people, customers and events."
In 2018, Iwuji looked at the country's trucker shortage and saw another business opportunity. He bought a semi truck and JBJE Transportation began hauling goods for Amazon.
"The trucking industry is here to stay," Iwuji said, explaining his decision-making process. "There's not enough people to even haul these loads so the demand is there."
While the COVID-19 pandemic shuttered many businesses, Iwuji says the past two years have been "absolutely amazing" for both his trucking and real estate ventures. His trucking company's financial numbers tripled during the pandemic while the downturn in the economy created a buying opportunity in real estate.
"When everybody gets scared and everyone is running out of the burning fire, that is where the opportunity is," Iwuji said. "You've got to be the one who doesn't run away from the fire but turns back and runs back in the burning building. People who do that are going to be the ones that find the gems."
Iwuji maintains entrepreneurship is not as difficult as statistics suggest.
"I know 90% of businesses fail after 'x' amount of years," he said. "I don't get it. I feel like that doesn't have to happen if you're being smart about what you're doing."
"When everybody gets scared and everyone is running out of the burning fire, that is where the opportunity is. You've got to be the one who doesn't run away from the fire but turns back and runs back in the burning building. People who do that are going to be the ones that find the gems."


– Jesse Iwuji
US Navy Veteran
---
When evaluating a business opportunity, Iwuji first asks himself if there is a demand for the business. Then he analyzes the company's daily, weekly and annual expenses, both fixed and variable. Finally, he looks for potential revenue streams to offset those costs and generate a profit.
"When it comes to entrepreneurship, you've got to know your numbers," he said. "If you don't know your numbers, then you don't know your business."
Combining his roles as a professional driver, race team owner and entrepreneur means Iwuji typically starts his day at 7:30 a.m. and ends at midnight. In addition to connecting daily with Iwuji Motorsports' team management, he spends a portion of each day training virtually on a racecar simulator and maintaining his physical fitness to withstand the toll racing takes on the body. His remaining time is dedicated to his multiple business ventures.
"As far as my goals in my sport, I haven't necessarily achieved them yet," Iwuji said. "I eventually want to win races. I haven't gotten there yet because I'm still gaining a lot of experience. I one day want to win a championship. That takes time and additional sponsorships to get to that level."
In NASCAR, talent isn't the only ingredient necessary for success. Millions of dollars are required to field a competitive team. Attracting and retaining sponsors becomes a key part of a driver's job. Iwuji's Chevrolet race team boasts additional big-name sponsors such as Equity Prime Mortgage and Coca Cola.
"You have to own the right car and have the right motor program," he said. "A lot of expenses go into it, from the tires to the shops to transporting vehicles to the people. There's real hard dollars and cents. You're always looking to maximize what you do and maximize your budget to the best of your ability…If you don't have any more money, you don't get to the track."
The son of Nigerian immigrants, Iwuji is one of only three African-American NASCAR drivers in a sport associated with predominately white male fans. His race has made him a target of some fans.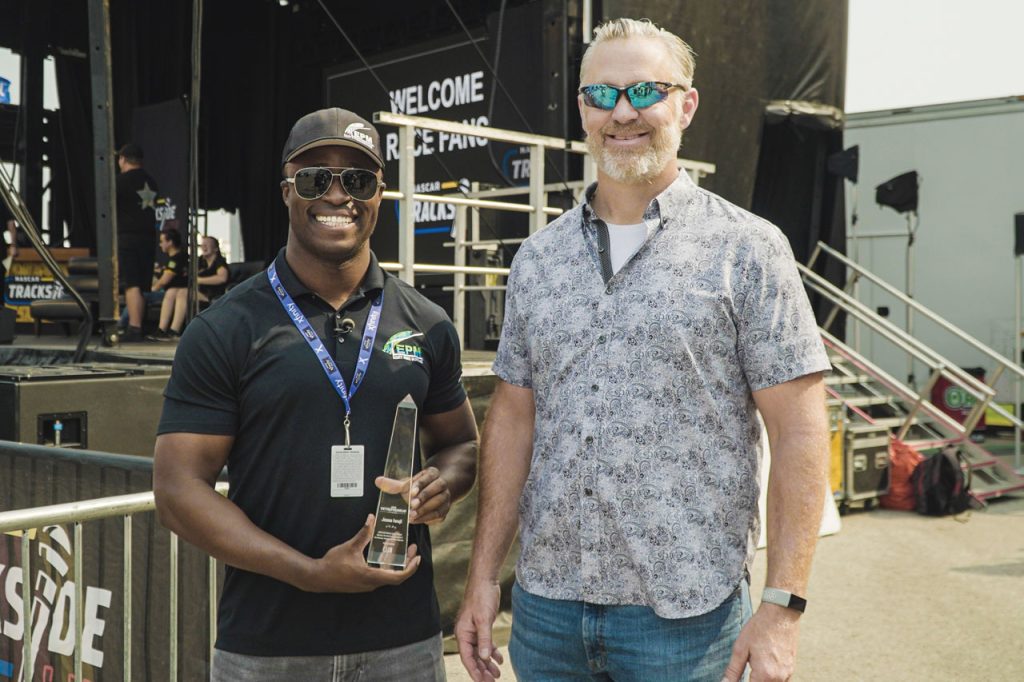 "I don't experience it on a daily or even weekly basis, but I've been a part of the sport for the last seven years and every year at some point someone will say something really, really derogatory," said Iwuji, whose #34 Chevrolet Camaro honors Wendell Scott, NASCAR's first African-American driver. "It's never something small that you could look at two different ways. It's blatant and usually involves the 'n' word."
Iwuji believes "exposing" racists is the best method for stopping the hate they attempt to spread.
While it may be impossible to win over all fans, Iwuji continues to use his platform to champion diversity and military and veteran causes. In particular, he wants to dispel the notion that all veterans return to civilian life with PTSD or other issues.
"Let's bring awareness to all the people who joined the military, served their time and then went on and did really cool things as productive people in society. Highlight that too because there's a lot of those people out there everywhere you look," he said.
Iwuji transferred to the
Navy Reserve after seven years on active duty as a surface warfare officer. By continuing
to serve, Iwuji believes he can
be an example of living life without excuses.
"It's not easy, but hopefully it gives people the opportunity to say yes to their goals," he explained. "People will say I can do this one thing in life because he's doing a thousand."