The National Veteran-Owned Business Association, in partnership with USAA, honors the 2014 Vetrepreneur® of the Year, Peter Holt.
M. Holt, CEO of HOLT CAT and Chairman and CEO of Spurs Sports & Entertainment. The Vetrepreneur® of the Year award is a prestigious honor bestowed annually to only the finest role models the veteran-owned business movement has to offer. The Vetrepreneur® of the Year demonstrates the finest qualities and attributes crucial in leading a flourishing business, marked and sustained business growth and an extensive aspiration to cultivate veteran entrepreneurship.
THE TRANSITION
In 1967, Peter M. Holt dropped out of college and decided to join the military. In 1968, he came back from serving with the U.S. Army, including 13 months in Vietnam as an infantryman, and wasn't sure what his future held. But he said he learned an invaluable lesson during his time in Vietnam, including fighting during the Tet Offensive. He learned the value of teamwork.
"You cannot survive without a team," Holt said.
His emphasis on working with others would serve him well in ways he never imagined. His goals in transitioning back to civilian life were simple: he wanted to continue his education and start a business. At that time he had family living in California and he attended junior college briefl y before becoming a stock broker in San Francisco.
He realized that being a stockbroker wasn't for him, so he tried his hand at entrepreneurship and bought into a hotel with a bar and restaurant in Sonoma County.
"I knew I didn't like working for other people, even though I knew I'd be half broke all the time," Holt said.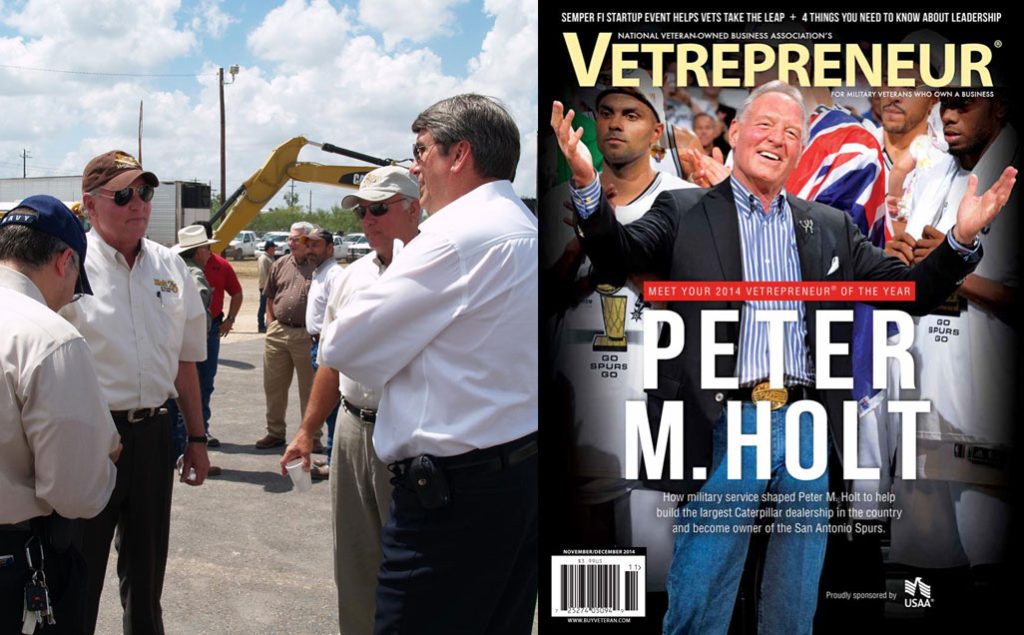 THE LONE STAR STATE
Born in Peoria, Ill., Holt's family moved to San Antonio when he was a young boy, where he spent the majority of his childhood (the family moved to Corpus Christi for his high school years).
He left for Vietnam and returned to try his luck in California before making his way home to the Lone Star State. In 1982, Holt went back to Texas to work for his father's Caterpillar dealership in Corpus Christi, which was the smallest dealership in the country at the time. Holt's great-grandfather, Benjamin Holt, invented the first practical track-type tractor in 1904 and started one of the two predecessor
companies that formed Caterpillar Inc.
Over the next 20 years, Holt grew the business dramatically, and now San Antonio-based HOLT CAT is
the largest Caterpillar dealership in America and one of the five largest in the world. Holt led the company in establishing a culture based on a set of core business values, the first being ethical. This values-based leadership culture focuses on employees, customers and the communities that the dealership serves.
THE BUSINESS TODAY
HOLT CAT is the distributor for Caterpillar machines and engines in 118 counties in Texas. With the largest heavy equipment rental fleet in Texas and more than 20 full-service locations, Holt provides unequaled support for its customers. Primary customer markets include the construction, quarry and aggregates, agriculture, mining and petroleum industries.
"A team has to be comprised of individuals who are highly capable, very focused and very, very willing to serve others," Holt said. "If I'm willing to do that as a servant-leader, I've found that others are willing to follow. Starting with that little hotel and restaurant in California and everything since, I've learned that the more I'm there to help and support others, the more capable then we all become."

Peter Holt, Holt CAT
THE VALUE OF VETS
During his time in Vietnam, Holt earned a Silver Star, three Bronze Stars and the Purple Heart. He said his life was saved many times by his fellow soldiers and that 54 names of fallen veterans on the Vietnam Veterans Memorial are those of men he served with. Holt's firsthand knowledge of the positive traits that military service ingrains in veterans has led HOLT CAT to aggressively recruit veterans, and currently more than 17 percent of its 2,100-plus employees have military backgrounds. In addition, the lessons he learned personally permeate the way he leads.
"I'm a believer in the law of attraction," Holt said. "If I tend to have that attitude in my leadership style, it tends to attract those kinds of people – and that's been very successful for me. The main issue is not confidence with people, it's commitment. If they see their leader as committed to their well-being, as well as the well-being of whatever organization you're involved in, with a set focus and goals and a vision, people will commit."
GIVING BACK
Holt has taken great strides to serve his community and the state of Texas, as well as the U.S. military veteran community. He is a strong supporter of United Way because it supports
such a diverse group of organizations.
Most HOLT CAT stores have campaigns every year and the company matches employee gifts. In 2003, Texas Gov. Rick Perry appointed Holt to the Texas Parks and Wildlife Commission and he served as chairman from 2007 to 2011. Holt is also a member of the World Presidents' Organization, the Free Trade Alliance San Antonio and the San Antonio Economic Development Foundation. In 2004, Holt was named to the Texas Business Hall of Fame. In 2009, he received the Woodrow Wilson Award for Public Service and he was named the Texan of the Year in 2010.
Holt said he's experienced a rebirth of pride in his military service, and earning the distinction as the Vetrepreneur® of the Year is very special to him.
"I've always been proud to be a veteran," Holt said. "I've very proud of what I accomplished and what I was able to get through coming out of Vietnam. I had a little bitterness – not about being in Vietnam, it was the
way we were treated after I got out of Vietnam. There was a time when I was not very involved in being a veteran. Now being recognized by a veterans group is very meaningful to me." Holt's reignited passion to serve the veteran community has led him to be actively involved in an effort to construct an education center under the Vietnam Veterans Memorial in Washington, D.C. The $85 million project is intended to
provide a human face and identity to the names listed at the memorial site. "It is still a passion of mine to help tell the story of the service and sacrifi ces of my friends and thousands of others who gave their lives in that war," Holt said.
THE SAN ANTONIO SPURS
In 1996, Holt and his wife, Julianna Hawn Holt, bought the Spurs ownership group and enjoyed unprecedented success growing that business as well. During his tenure, the organization has won five NBA championships (1999, 2003, 2005, 2007 and 2014), a successful campaign for a new arena and two new San Antonio-based sports franchises. Holt credits the 2002 opening of the AT&T Center for helping him successfully grow the organization now known as Spurs Sports and Entertainment, which boasts more than 250 full-time employees.
In addition, Spurs Sports & Entertainment runs three other professional sports franchises – the Stars (WNBA), Rampage (AHL Hockey) and the Austin Toros (NBA Development League) –while also managing the day-to-day operations of the AT&T Center. Moreover, the Spurs organization has been named the best franchise in professional sports three times (2003, 2005 and 2014) and has been ranked the top NBA franchise seven times in the annual ESPN The Magazine Ultimate Standings survey.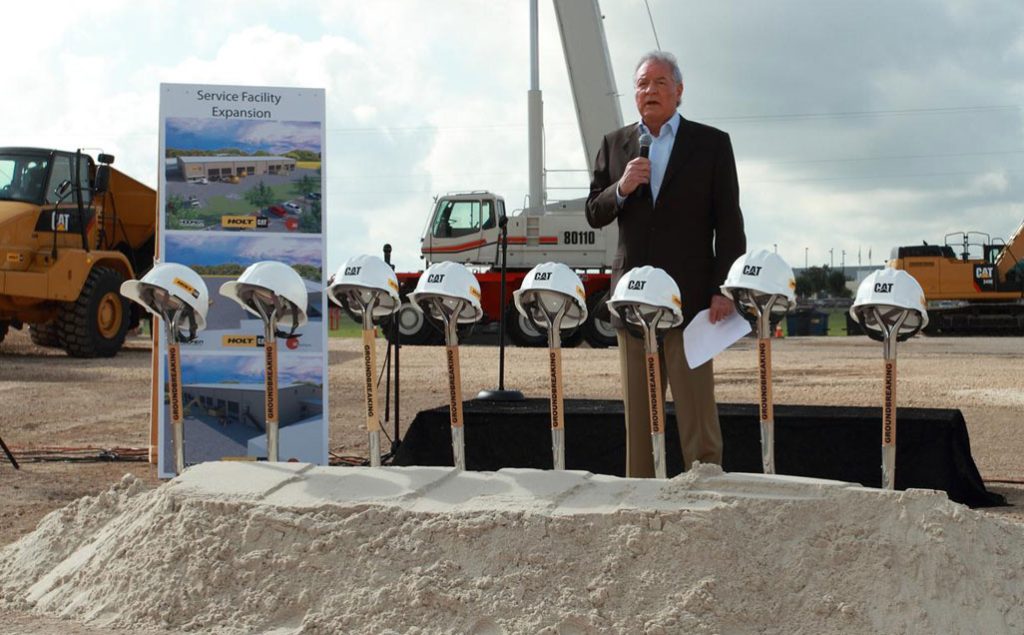 ---
Q&A with Peter Holt
Peter M. Holt has started, bought and sold many companies over the years. He has employed as many as 5,000 people and currently employs more than 3,000. We wanted to share his success story and also some advice he has for other vetrepreneurs to continue to fi nd success in their businesses. How did you start your business?
Peter M. Holt: HOLT CAT was started by my great uncle in 1933 with one location and fewer than 10 employees in 1933. Since 1983, when I went into business with my father, B.D. Holt, our dealership has grown from the smallest to the largest Caterpillar dealer in the U.S.
How did your military experience specifically prepare you to be a business owner?
Holt: It taught me the boldness to take risks, the endurance to get through tough times and the importance of teamwork and strong leadership.
What were some of your concerns when you started your business?
Holt: I had no experience in managing a large business. I wanted to diversify the business to reduce dependence on petroleum markets.
What were some of the challenges in getting your business started?
Holt: Our geographical territory was limited and we did not have the depth of leadership to grow the business.
What is the key to the success of your business?
Holt: Operating the dealership by a set of core business values – ethical, success, excellence, commitment, and dynamic. We call it Values Based Leadership (VBL). The decisions of every member of the company are guided by these values as we relate to each other, our customers, ownership and the communities in which we operate. Another key has been placing the right people in leadership and continually training others to fi ll leadership roles.
What advice can you share with other veteran business owners to help their business succeed?
Holt: Develop a set of core values that you want to use to operate your business and continually train employees to adhere to those values. Also, find people of high character for key leadership roles and train others to be prepared to step into those roles. Remember that people are your most important asset. Remember that you work for your customers. Find or develop great products or services to sell.
What pitfalls should other vetrepreneurs avoid?
Holt: Inadequate financing, poor hiring decisions, ethical compromise, and short-term thinking.
What jobs did you have between the time you left the service and starting your business?
Holt: Stockbroker, operated a restaurant and hotel, political campaign worker
What is the most interesting thing about you and/or your business?
Holt: My daughter and son, who have entered the business, are the fifth generation of the Holt family to be in the Caterpillar business. Another interesting thing is that I am chairman, CEO and principle owner of the five-time NBA champion San Antonio Spurs.
Why did you join the military?
Holt: I had dropped out of college and had little choice.
Any significant military achievements/experience you'd like to mention?
Holt: I earned the Silver Star, three Bronze Stars for Valor and the Purple Heart.
What is your fondest memory of the military?
Holt: The great men that I served with, many who gave the full measure of devotion.