After leaving active duty in 1974, Gordon Logan, who'd graduated from MIT prior to enlisting, picked up his MBA at the Wharton School of Business and began his career working for Price Waterhouse. He and his wife, Bettye, then struck out on their own in 1980, opening salons under three different brands. But they nearly went out of business when a trusted employee embezzled more than $100,000 and covered up the fact that company taxes had gone unpaid.
Left to pick up the pieces, the Logans reevaluated and decided to focus their energies—and limited funds—on a single brand. From the start, the Logans intended that company, Sport Clips, to become a franchise. Through careful analysis, they homed in on a niche market with huge potential: men and boys' haircuts. With barber shops on the decline, family haircutting chains and salons catering to women were the only viable options for many males.
Logan designed Sport Clips as more than simply a place to get a haircut; they created an experience that men and boys look forward to and enjoy. With the tagline, "It's good to be a guy!" Sport Clips salons feature a comfortable, laid-back atmosphere with large-screen TVs tuned to sporting events, sports-themed memorabilia and décor, and specially trained, talented stylists who know how to cut men's hair.
The Launch
The first Sport Clips opened in Austin, Texas, in 1993, and then franchising was offered in 1995. Over the next five years, they struggled with cash flow as they tinkered with and fine-tuned their franchising model, and only opened 50 stores. Progress was slow, but also steady and purposeful. Logan focused on bringing in top talent and developing the Sport Clips team rather than on explosive growth.
They continued to refine their unique model, too. Today's salons boast a unique vacuum system to keep the stores spotless, a proprietary haircutting system, signature MVP haircut experience, shampoo areas designed to respect stylists and offer clients comfort, and padded cutting area floors to reduce fatigue on hardworking stylists.
Building a sturdy foundation, investing in their people, and creating a strong company culture and brand identity have all paid off. In 2007, Sport Clips opened its 400th AND 500th stores. Today, Sport Clips continues to thrive, even amid a huge increase in competition, and currently has 1,450 stores in the U.S. and Canada. Sport Clips was named a top 100 global franchise for the first time in 2015, is ranked by Entrepreneur as one of the Top 10 "Fastest-Growing Franchises" and ranks 36th in the "Franchise 500." It is also ranked by FORBES as a "Top Ten Best Franchise" to buy for its investment category.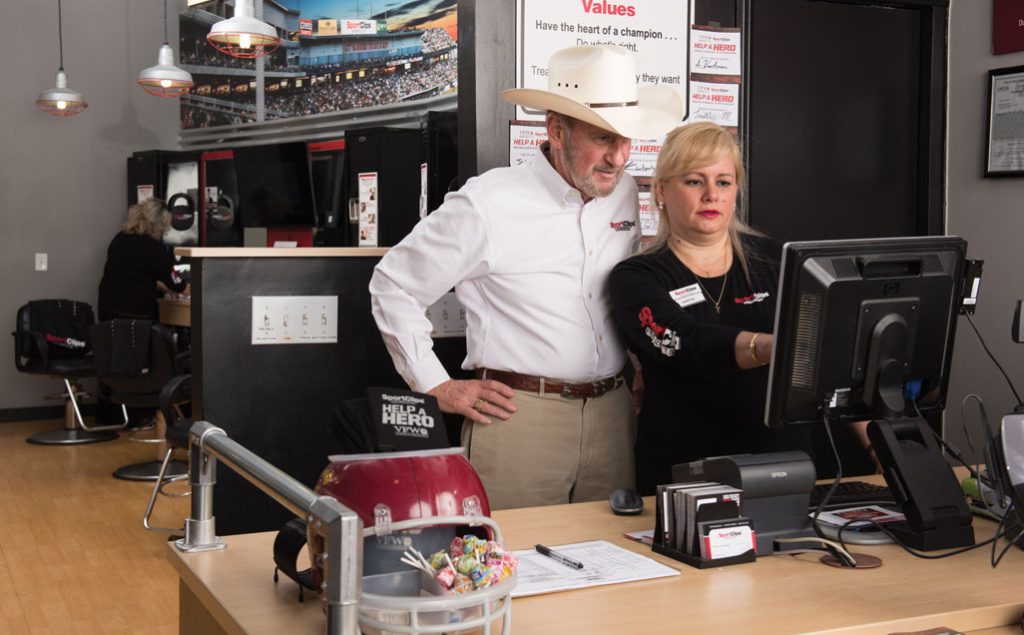 Giving Back
The Logans don't just value their own people either—they focus heavily on investing in and giving back to the community. The family made a pledge in 2013 to donate $1 million to Georgetown, Texas-area nonprofits and have been recognized for their philanthropic work with a number of nonprofits, including Habitat for Humanity, R.O.C.K, and the Boys and Girls Club. Logan also received the VFW's "Citizenship Award" and Sport Clips was named the organization's "Official Haircutter." Logan now serves on the Board of Directors of the VFW Foundation.
Through its "Help a Hero" program, Sport Clips' team members and clients have raised and contributed more than $3 million to help deployed and hospitalized U.S. service members call home and to provide scholarships for veterans transitioning to civilian careers. Sport Clips also provides support to a variety of other veteran service organizations, including the Aleethia Foundation, Honor Flight Network, Ageless Aviation Dreams Foundation, and Veterans Airlift Command. The company is also actively engaged in the International Franchise Association's VetFran program, and Logan is the incoming program chairman.
In that spirit of helping others, Logan sat down with Vetrepreneur to offer insights into his company's hard-won success.
How did your military experience specifically prepare you to be a business owner?
"The most important lessons we learned were leadership skills and the importance of building a team. We learned of the importance of not only having a good idea, and executing on it, but surrounding yourself with good people who can make up for your weaknesses. Everything we did in the military was very interdependent and it was critical that we have solid leadership. Your team needs to be able to trust you, and to do that, they need to know that you care about them." 
What were some of the challenges in getting your business started?
"Cash flow is always a challenge for any new business. Anyone who starts a business needs to be very careful to project appropriately, and have plans and contingency plans. As they say, it costs twice as much and takes twice as long as you think it will to start your business. The more of a financial cushion you have, the better off you'll be. We had a very difficult first six years and cash flow was absolutely critical during that time. In general, entrepreneurs are very optimistic; we see the world with rose-colored glasses, and in a way, we need to, because otherwise we'd never try to start new businesses! But it's critical that you look the worst- case scenarios and plan for them as much as possible."
What advice can you share with other veteran business owners to help their business succeed?
"From day one, we've tried to run our business with a strong values system: do the right thing, do your best, and treat people as you want to be treated. And it's critical that you as the boss walk the talk. Having a solid values system makes everyone willing to go above and beyond – which everyone NEEDS to do in any startup venture – and having something that people can feel good about and believe in is key. People need to share your vision and want to be a part of it. It gives them a sense of purpose and inspiration. So we work hard to engage with the community and help others develop their careers and reach their goals. As Zig Ziglar said, 'You can have everything in life you want, if you will just help enough other people get what they want.'"
What pitfalls should other vetrepreneurs avoid?
"Avoid giving up and getting discouraged. It's very easy to get down on yourself when things don't go the way you want or need them to. But you need to persevere, hang in there, double down, make it work, and get beyond those setbacks. The most successful people have always experienced major setbacks at one time or another. Henry Ford and Thomas Edison, just to name two, had major failures before they succeeded. But they pushed through. Everyone makes mistakes, the most important thing is to learn to adapt and be flexible."
Do you have any plans to retire from the business?
"I'm still very active in the business, and my son is very active as well. He's the Senior Director of Operations and he's currently being groomed to take over. We have an outstanding team in place, and so I would imagine in five-plus years or so my role will gradually back off. But I certainly have no plans to just quit!"
What did you do in the military (military occupation)?
"I flew C-130s in the Air Force on active duty from 1969 to 1974, and then as a reservist through 1976."
Why did you join the military?
"I had an occupational deferment, but I felt guilty about it, didn't feel comfortable staying behind while my friends all went to war. Pilot training turned out to be a ton of fun! We couldn't believe they were paying us for it. I was with a great bunch of guys. We worked hard and enjoyed it at the same time; it was a very worthwhile experience."