Invictus in Latin means never conquered, which is why Jim Kelly, President and CEO of Invictus International Consulting, chose it for his company name. Dealing with failure is an unfortunate reality for most business owners, but Kelly managed to buck that trend. He has successfully launched and sold two previous companies before creating Invictus in 2014. All of his companies shared a common mission: keeping America safe from its enemies.
Kelly's tremendous entrepreneurial success, his dedication to hiring veterans and his commitment to giving back and making a difference make NaVOBA, in partnership with Armed Forces Insurance, proud to honor him as the 2017 Vetrepreneur® of the Year.
Made in the Military
Like most vetrepreneurs, Kelly's remarkable resilience and fortitude were first cultivated in the military. His inspiration to join the military came from his father who was a WWII veteran who served in the Marine Corps in China.
"He was like the All-American boy," Kelly said. "He had this 'God, country, family' concept. I remember down in our basement there was a picture of Christ, a picture of our family and a picture of Chesty Puller."
Chesty Puller remains the most decorated Marine in history having been awarded five Navy Crosses.
"At my retirement ceremony I said 'it took me 26 years to realize that Chesty Puller wasn't an Irish Catholic Saint," Kelly joked. "His military background was always apparent with him. He always had a Marine haircut. And this was during the 70s so I was the only kid in my high school yearbook that didn't have hair down to his shoulders."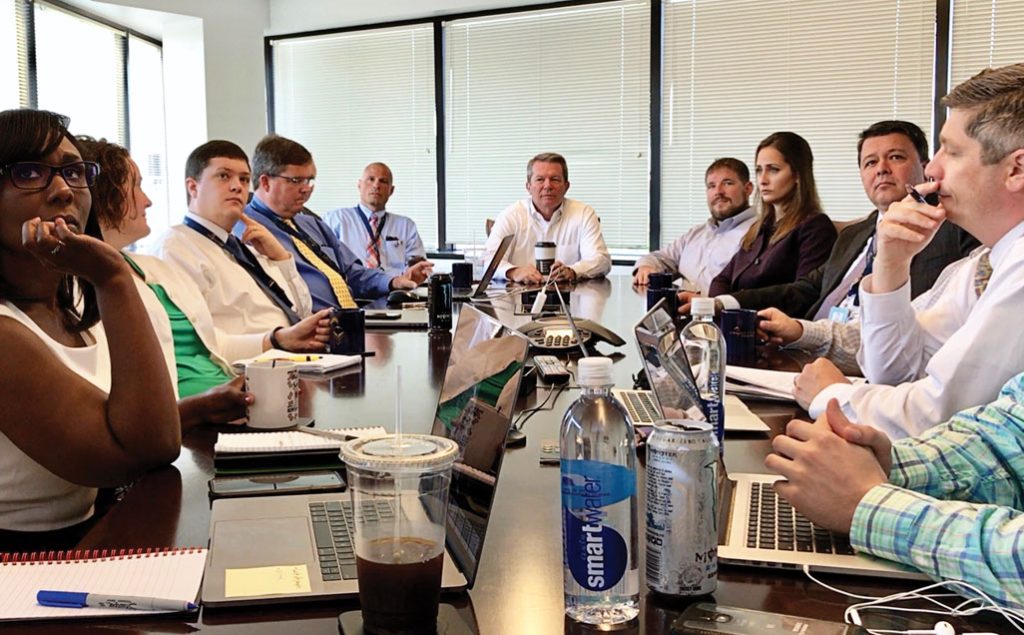 The Odyssey Begins
Kelly was a state champion runner in high school and once ran a mile in less than 4 minutes and 22 seconds. He was considering numerous offers for where to attend college and had actually committed to Holy Cross. He spoke with a Blue and Gold officer from the Naval Academy who introduced him to Al Cantello, a retired Marine and javelin thrower who had been the coach of the men's distance running program at the academy since 1963.
"I went to visit the Academy in the spring of my senior year," Kelly said. "The beauty of the place, the majesty, the history were palpable. I had never seen a school like it in
my life."
Kelly was the captain of the cross country team and graduated in 1977 with a bachelor's of science degree in international security affairs and operations analysis. Kelly chose to serve on the USS HALSEY (CG-23) after graduation. It was during this time the young officer began to develop the leadership skills that would become crucial to his success in business later.
Building a Team
Kelly said that this was an interesting time for the Navy and he met a very eclectic mix of sailors.
"I seemed to have a knack for bringing people together from all walks of life," Kelly said. "And this was back in the mud, the blood and the beer days. You know, 'go to the Navy or go to jail,' so we had some pretty interesting people in the Navy back then. But I always listened to what they had to say. You kind of have to put the puzzle together."
Kelly successfully mastered the puzzle and developed his team to perform together very efficiently. In fact, both years Kelly was in charge the Halsey won the Battle Efficiency Award, commonly known as the Battle "E" competition, which is awarded annually by the small number of other units that win their battle effectiveness competition.
"You grow up really fast when you're 22 and you have 30 other guys underneath you," Kelly said.
Continuing to Grow
Kelly continued his education and earned a master's degree in operations analysis at the Navy Postgraduate School in Monterrey, Calif. While in school he took a couple of courses with a former naval officer and attaché to Moscow who was a professor at Stanford University and it sparked his interest in the intelligence community. At the time he had designs on becoming the next James Bond but instead he was sent to Maryland to conduct non-acoustic antisubmarine warfare.
"One of the things you learn in the military is maximum flexibility, and that's what you need in the business world," Kelly said.
All told Kelly served 20 years in the Navy with notable roles including serving as a Surface Warfare Officer during the Iranian Hostage Crisis and numerous intelligence officer assignments during Desert Storm and at the UN during which time he was nominated for and won the Rufus L. Taylor Intelligence Officer of the Year Award in 1992. Kelly also served as a liaison officer to Canada and the Joint Staff. Kelly retired from the Navy in 1997. He then served as the chief of the special projects branch of the Defense Intelligence Agency briefly before he began his journey as a vetrepreneur.
"We've been briefing creative artists in Hollywood, hospital consortiums, insurance firms and investment firms. We can react faster and better than these large companies. We're much more efficient and cheaper and we have equal if not better talent."

James Kelly, Invictus International Consulting
Taking the Leap
Kelly spent five years working with the Defense Advanced Research Projects Agency on Project Genoa, a project designed to analyze large amounts of data and metadata to help human analysts counter terrorism. Kelly was working with retired Rear Admiral and former National Security Advisor John Poindexter who went to work on a different DARPA project and asked Kelly to join him. Kelly said he felt he could be more of an asset from outside the government. In 2002, Kelly and his roommate from the Naval Academy Pierre Thout launched Hawkeye Systems.
In 2005, Hawkeye was acquired by ManTech International Corporation. In 2006, Kelly launched his second company, CenTauri Solutions, which provided superior intelligence, surveillance, and reconnaissance solutions to federal clients across the globe. The company won several multi-million dollar contracts during its first several years, including an unmanned helicopter program that took out improvised explosive devices. In December 2010, CenTauri was acquired by Computer Sciences Corporation.
"Unlike the other one, I said 'I want to stay for a while,' so I ended up taking over the intelligence business there. Within a year we won a $150 million big data cloud contract. We won $1.2 billion in total contract value in three-and-a-half years – which is essentially unheard of."
Third Time's a Charm
In 2014, Jim stepped down as Vice President and General Manager of Computer Sciences Corporation's Army and Defense Intelligence work, a billion-dollar enterprise, to form his third small business – Invictus International Consulting. Kelly's father recited the Invictus poem to him as a child as a constant reminder to persevere.
"I truly believed that I could make a real difference. I used to say, 'give me three enlisted guys that are good and I could conquer the world," Kelly said.
Kelly's faith in the potential for his company was so great that he didn't take a salary for the first two years. He also had people working for him for essentially nothing on their faith in him that the company would eventually do great things.
"That's a gift and a burden," Kelly said. "Their belief in me that I can make something happen is great but it's also a burden because I know they're working very, very hard, extra hours on the weekends to help someone that they believe in. It's not as easy as one thinks."
Perseverance Pays
In the company's first three years, Invictus has focused on keeping America safe from cyber attacks by providing widely-recognized mission-critical services to the intelligence community. In 2017, Invictus directed worldwide-mission essential communications to national security after Hurricane Irma and strengthened the cybersecurity posture of a national intelligence agency by implementing a mandated Risk Management Framework.
In addition, Invictus provided executive-level strategic cybersecurity expertise to the Federal Aviation Administration (FAA) aircraft control modernization and led penetration testing and cybersecurity assessments for financial services firms and a multinational oil company – saving these companies millions of dollars.
Invictus has seen a six-fold revenue increase, tripled the number of employees in 2017 – 60 percent of whom are veterans – with more than 100 people operating in nine states and three countries. Recognizing its skyrocketing growth, GovCIO Outlook magazine named Invictus one of the "Top 10 National Security Services Providers of 2017."
People Power
Kelly credits his success to his philosophy of leadership, sense of honor, respect, loyalty, and excellence that traces back to his military service. He said he believes in sacrifice, commitment to the mission, duty to the team, client, and country. Kelly has built a team of like-minded people that value the Invictus family and everything it represents – a devotion to country and the men and women who serve in the military.
Kelly also participates with organizations like Dog Tag Inc., which recently hosted Mock Interview day at Georgetown University for military veterans, wounded warriors, spouses and care givers. Invictus also works to partner with other veteran-owned companies and is participating with the Military Warrior Support Foundation's Homes 4 Wounded Heroes program, which will provide a mortgage-free home for a combat wounded service member.