Embezzlement. Bankruptcy. Recession. For many businesses, experiencing just one of these catastrophic events precipitates its imminent demise. What makes Walker SCM so extraordinary, and its leader, Emmett Walker, so inspiring, is that the CEO and his team faced down all three adversaries…and emerged victorious. Indeed, Walker SCM, one of just a few certified Minority Business Enterprises (MBEs) in the logistics industry, works with corporate giants like General Motors, Johnson & Johnson and Pitney-Bowes, and has presence in over 25 countries around the globe.
Walker's tenacity, patience and dedication, coupled with his tremendous success, make NaVOBA honored to name him the 2016 Vetrepreneur® of the Year presented by Armed Forces Insurance.
Made in the Military
Like most vetrepreneurs, Walker's remarkable resilience and fortitude were first cultivated in the military. He joined up immediately after high school and became an aircraft mechanic with the U.S. Air Force. After his discharge, he took courses at Hofstra University and secured a position with Fairchild Freight despite not having the requisite experience and education.
"I convinced them to let me work for free and hire me after six months if they liked my work," Walker recalls. "I got hired as a full-time employee after one month. That's where I first got into the air freight business. I worked as a logistics coordinator for a few years and loved it."
After joining another company, Walker learned the freight forwarding business and quickly rose from clerk to director. With more than 10 years of experience in the industry, he decided he was ready to start his own company.
Going All In
"I quit my job just as my wife was about to go on maternity leave," he recalls with a sheepish laugh.
"We had no insurance, so when my wife had our first daughter, I had to work out a payment plan with the hospital before they would let me take her and the baby home." 
Walker and his wife, Betty, launched Walker International Transportation, the first of what would become several related businesses under the Walker SCM holding company, in 1989. They worked from their kitchen table and used the money they'd been saving for a down payment on a home to fund the startup.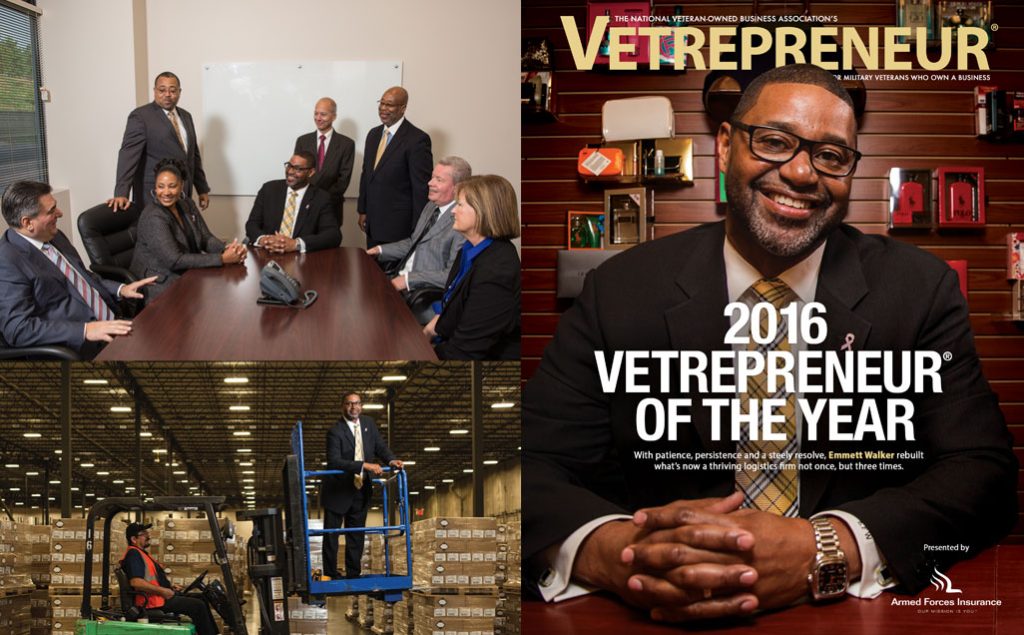 Sowing the Seeds
"We stayed in our apartment instead and leveraged one contract, Philips Electronics, to start. We did those shipments very well. I joined the New York/New Jersey Supplier Development Council and began to market myself."
For the first year, Walker and his wife worked alone. Then Walker hired Roger Moll, who is still with the company today, and the team moved into a small office space with just enough room for three desks.
"We couldn't all stand up and walk around at the same time," Walker recalls. "It was that tiny!"
Toeing the Line
Walker grew the company slowly and organically, initiating a practice of patient persistence that paid off. 
"It took me years to develop a relationship with AT&T, but we finally won the account," Walker says. "I met someone from Xerox who said he'd give us a shot, and then I followed up him every day for six months until we got the work." 
Eventually, they ran out of their seed money, so Walker brought in a silent partner who owned a trucking company in New Jersey, and leveraged the relationship to open five different offices. Business was growing steadily when Walker realized his partner had been stealing large amounts of money from the company—to the tune of several million dollars. 
"After consulting with lawyers, who told us we would have a difficult time proving our case, we ultimately decided to buy the partner out and move on," Walker says, acknowledging that it was an extremely difficult thing to do. 
Forging On
Walker had to work out a payment plan and borrow from friends in order to buy back $75K in stock from his former partner, but he managed to keep the company afloat. Unfortunately, after recovering and rebuilding the business, the company took another huge hit, losing their biggest clients. 
"At the time we were doing a lot of business with AT&T. Then, a new gentleman joined AT&T and decided to move their business to a larger supplier. We lost Xerox soon after when they changed their shipping port to a location in Canada. In a short time, we'd lost 40 percent of our business." 
Starting Over
On the advice of a financial expert, Walker closed all his company's offices but one and filed for bankruptcy. After coming out of bankruptcy in 1999, Walker restructured his organization and worked out a deal with Air Express International to use their existing infrastructure in exchange for 49 percent of the business. The company grew again, and eventually, Walker was able to buy back his company's stock.   
"We were heavily into automotive at the time; we were working with GM and doing a lot of work for different automotive suppliers. But when the market crashed in 2008, we lost the automotive business, which accounted for 50 percent of our revenue."
Enduring Change
With the help of a finance partner called Access Capital, Walker dug in his heels and again rebuilt his company. Access Capital met with Walker every week, providing him with a recovery plan and cash flow support. Eventually, GM was able to restore its relationship with Walker SCM, and the company picked up more new clients when it diversified into the pharmaceutical, electronics and computing industries. Once again, Walker's persistence paid off.
"Nothing comes immediately," Walker advises. "I knocked on GM's door for five years and IBM's for three years before I got those accounts. But," Walker points out, "you need to be ready for that opportunity when it comes, and you need to do what you say you are going to do."

Emmett Walker, Walker SCM
The Pay-off
Clearly, Walker has delivered on his promises. Today, Walker SCM is the holding company for seven operating companies that offer global air and ocean freight forwarding, warehousing and distribution, inventory management and fulfillment, specialty packaging, customs brokerage, procurement, consolidation/deconsolidation, domestic trucking, supplier relationship management and network visibility services. 
Walker credits his military training for his success, so much so that he believes everyone should join the military for a year or two before entering the workforce.
"Everything I learned that wasn't business-specific, I learned in the military," says Walker. "The military taught me how to get along with people and be part of a team. No matter where people were from, what walks of life, you depended on them to survive," Walker says. 
Relationship Advice
Nearly 40 years after leaving the military, Walker still recognizes the importance of those lessons he learned long ago. 
"The most important thing in business today is relationships. As a small business, you can't do everything—you can't be everything to everyone. You need to be able to rely on others, adapt and work together."

Emmett Walker, Walker SCM